About this Story
Title
Before the Flood
Series No.
Episode No.
Series Nine
Episode Four
Broadcast Dates
10th Oct 2015
Overnight Ratings (UK)
4.38 Million
Doctor
Twelfth Doctor
Companion
Clara Oswald The Doctor faces the Fisher King
The Reaction
Highlights
Beethoven's 5th - The little analogy for the whole episode in the pre-titles was great. The breaking of the fourth wall was effective, which would help the casual viewer to understand the concepts of the episode.
Axe Chase - The scene in which Moran was stalking Cass down the Drum's dark corridors was perfect. The audio and visuals built up the tension brilliantly.
Theme Tune - The different arrangement of the theme tune was a lot better than the usual one. It was probably the best use of the electric guitar this series, but hopefully the last...
Clara - Her assumption of the Doctor's role over Cass and Lunn was convincingly performed by Jenna Coleman, who worked well with both of the guest stars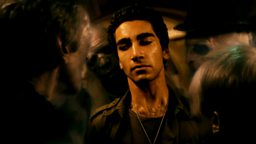 Will Lunn escape the ghosts?
Low Points
Fisher King - Don't get me wrong, I thought the design of this monster was excellent, but it was just underused. We never actually got to see it properly in action.
O'Donnell's Death - It seemed rather pointless with the attack happening off-screen. It may have been more effective if she has actually died off-screen.
Quote of the Week
Bennet:
"My first proper alien and he's an idiot!"
Thank you for reading! Drop a comment with your thoughts or suggestions! They will be greatly appreciated!